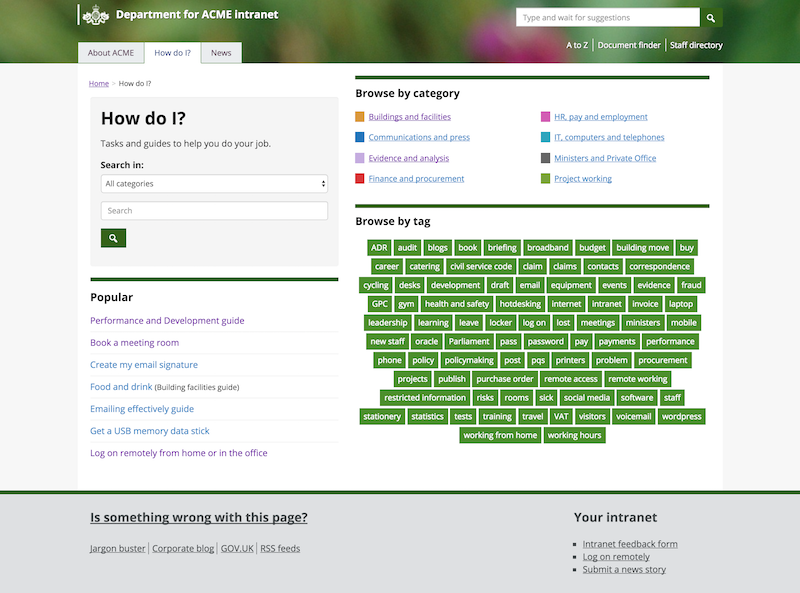 Version 4.20 updates
8 Sep 2016
Version 4.20
The widget area for Homepage Column 3 bottom has now been removed. Theme updates will move any widgets you had in this area to the bottom of Homepage Column 3 top.
A new widget area is now available for the How do I? templates. This is primarily intended for displaying top tasks via the Most Active widget but can be used for intraverts or any other widgets.
The automatic complementary colour checkbox has been removed from Options, leaving a manual choice of colour to use for widget borders and buttons around the templates.
Fixes to database update functions.
Version 4.20.1
Removed continue reading link from excerpts

Pages are now included in the tag template

Translation updates
Version 4.20.2
The complementary colour checkbox has been removed from Options. 
Several improvements to the allow WYSIWYG features in forums – see Options, Modules. Improvements to correct content pasted into forums via Microsoft Word or copying from HTML pages.
Fixes for Google Analytics intravert tracking to cover classic and new tracking code.
Updates to Media A to Z templates to allow for new complementary colour settings.
HT plugins and widgets
I had a few problems updating sites that were running WordPress pre 4.6 and GovIntranet pre 4.20.
Updating to WordPress 4.6.1 and GovIntranet 4.20.2 caused the homepage to break on some intranets and I solved this by updating all HT plugins and then republishing the homepage.
Please make sure that you update all HT plugins to the latest versions when updating the theme to GovIntranet 4.20+ as some older versions of widgets rely on code in the theme that has since been removed.