Version 4.38 updates
22 Nov 2017
This round of updates introduces more support for the customiser, allowing you to preview style options that were not previously available.
Moved settings from Options to the core Customiser
Some settings have moved from the Options -> General tab to the core WordPress Customiser:
Hide site name in header is now available in Customiser -> Site Identity
Widget border height moved to Customiser ->Site Identity
Complementary colour moved to Customiser -> Colours
New option for button text colour in Customiser -> Colours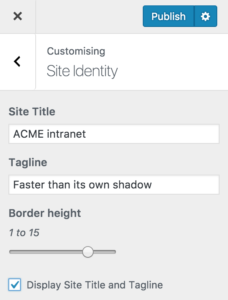 Widgets in the customiser
Widgets will now show an edit button within the customiser for quick access to widget features. Live preview features are still in progress for some widgets.

Template updates
Buttons now use the complementary theme colour and the button text colour.
The newsboard template now has coloured tabs following theme colour options.
Plugin updates
GovIntranet plugins are not available for automatic updates. Please remember to download plugins and update manually.